I bought this twin headboard at a garage sale for a couple of bucks several years ago with the plan of making it into a garden bench. I was going to paint it a bright blue or green. But I guess I didn't look at it carefully enough, because under the grime was a really bad paint job with runs, globs and cracks, and a road rash on each end. Since I really didn't want to spend hours sanding it, I decided to camouflage it with pattern instead.
To do it, I had to buy two 2x4's to connect the headboard and footboard. I used a jig saw to cut a curve in three boards for a comfortable seat, and four 1x3's which I cut in half to make the slats for the seat.
Then, I bought three gallons of mistinted exterior paint for $1 each, and a quart of custom mixed black exterior. I also used some off white exterior paint left over from painting our house. The only other thing I bought was some painter's tape. It was a little pricey but boy was it worth it. I'll tell more about that later. I determined the size of the Harlequin pattern by measuring the square on near the top of the posts. Just to make it interesting, I made them a little taller than they are wide.
I used tape on the straight lines and freehand on the curves (and some of the straight lines that won't show much). I just don't have a steady hand for straight lines. Then I used a tip from Manuela at
The Pleasure of Homemaking
for transferring lettering and put a Bible verse across the top.
I have absolutely no patience, and didn't wait for the paint to cure well before tracing the letters and just the pressure of my hand on the paper smeared the graphite into the paint and I had to start over. So if you do this, let your painted base get completely dry before you trace your letters on it.
This is today (not quite finished, but good enough for a picture).
All together, it cost me about $55.00, and I have tape and paint left over.
It's another Metamorphosis Monday and I am linking to
Between Naps on the Porch
. Love to see all the neat transformations people have posted there. Thanks Susan!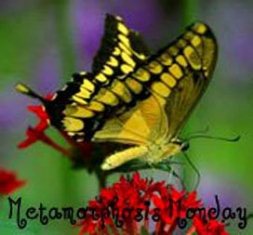 I'm also linking to
DIY Linky Party
at
Fine Craft Guild .com
Thanks for the invite Rose!
Oh, one more thing. I have to rave about this new paint tape I found. Maybe you are already using this, but if you aren't, and you are the impatient type, like me, try it. It is made by Frogtape, but it's a sensitive tape for delicate surfaces and
fresh paint
. It really works! As soon as the paint is dry enough to touch without sticking to your finger, you can put the tape on and it
won't stick
! At least most of the time. The black paint I bought has so much colorant in it that it was extremely slow drying and sticking to the headboard (which I didn't sand or prime first), and the tape pulled a little of it off. Could have been something on the headboard under the paint because it was only in one area.
Anyway, I don't work for them, get paid by them (I wish), or have any connection with the company. I just love this tape.
Until next time, may you have blessings and a steady hand,
Marti